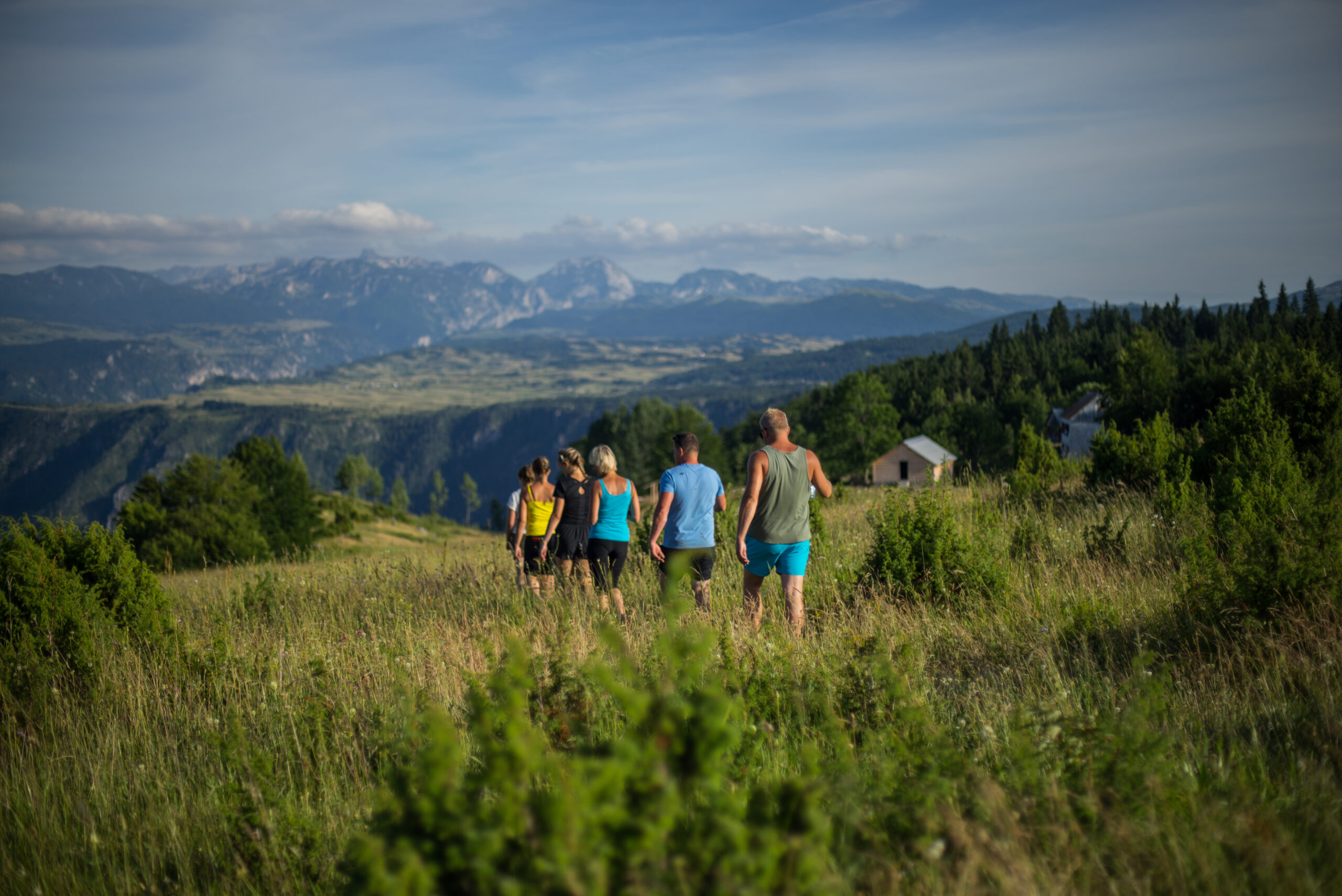 Overview
Hiking / Biking / Rafting
Unforgettable experience of biking on isolated terrains of the Durmitor.
The price includes:

• Accomodation: We offer accomodation in bungalows, rooms with bathrooms, tents (with sleeping bags)
• Food: Rich assortment of local specialities.All meals are served as self-service.
The programme:

Day 1.
• Arrival at the Grab Camp and accomodation
• Dinner
• Free time, relaxing and enjoyng the music on wooden teraces and under savardaci
above the river.
Day 2.
• Breakfast
• Circle biking tour: The trail "Pivska Planina". Enjoy an exciting trip trough the
regions of the Piva Mountain, the Piva River Canyon and picturesque lake of Piva.
We will have a pause for the lunch package and then continue our exciting riding
allong the cliffs of a famous Tara River Canyon. You will enjoy the view of
traditional mountain villages.
• Dinner at the Grab Camp
• Free night for rest and having a great time with your companions.
Day 3
• Breakfast
• Hiking tour: Crkvicko Polje- the Grab Camp. A dinamic hiking tour during the
whole day where you can enjoy amazing sceneries of pure nature that you can see
on the old carawan road trough the north of Montenegro. During the tour we will
visit churches, monumental houses and discover exciting nature surrounded by the
conifer and decidouos forests. The trail has levels from "easy" to "tough" and you
need appropriate shoes for walking across the rocky and slippery terrain.For lunch
we have lunch package in the nature.
• Dinner at the Grab Camp
Day 4
• Breakfast
• Rafting: One day rafting Brstanovica-the Grab Camp-Scepan Polje
• After breakfast we are preparing for rafting; we provide to the guests the best rafting
equpment (neoprene suits, special shoes, safety belts, helmets).
• Transport by terrain vehicles to Brstanovica, the starting point of the rafting • Rafting starts, we
continue the rafting on exciting waterfalls and rapids to Scepan Polje.
• Return to the Grab Camp, changing clothes, lunch and leaving.
• You can prolong the stay, have dinner, spend night and have one more pleasant
evening in our camp
• The Camp is close to the river; where you can swim, go fishing, hike, walk on well
prepared trails near the camp, rent a hydro speed, mountain bike and many other
things, make the first mountain climbing steps on the natural cliffs there, etc…
For more information about every tour and also for reservations, contact us!